Quality offers employees unique opportunities for global assignments
When you're part of Takeda's Global Quality team, you may find yourself with a unique opportunity to work in a new location for a period of time. These exchanges have been growing in popularity and delivering amazing results for the employee as well as their teams in both locations.
Find out more about our Global Quality function and read on to learn more about Shinpei's recent journey.
About Shinpei and his Takeda journey
Shinpei Hattori, a seasoned Quality expert with more than a decade of experience, comes from the picturesque city of Kudamatsu-shi in Yamaguchi-ken. As a dedicated (paper) pharmacist, Shinpei has honed his skills and expertise in ensuring the highest standards of quality in pharmaceuticals.
Shinpei embraces the joys of family life, proudly cherishing his role as a loving husband and a doting father to his spirited seven-year-old daughter. Shinpei embodies the spirit of a lifelong learner, constantly expanding his horizons in business, technology, and languages.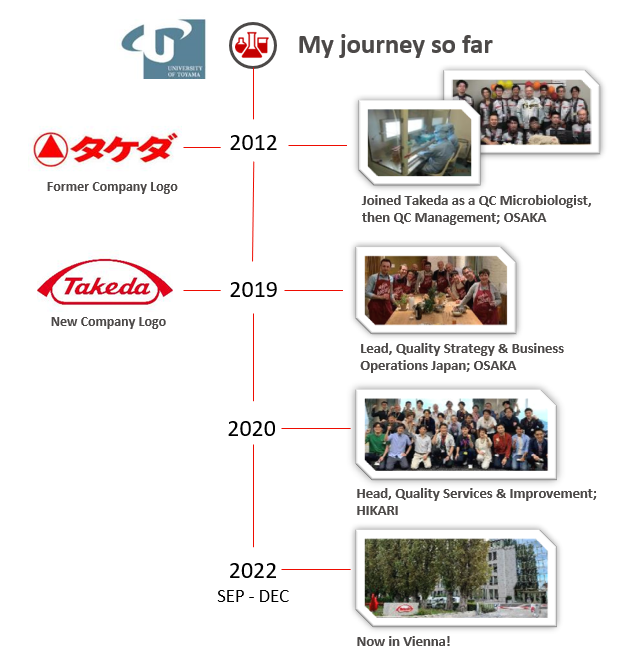 He finds solace in the wonders of the world and as an avid traveler, he seeks new destinations and immerses himself in diverse cultures. Shinpei's passion for the Japanese martial art of Kyu-do demonstrates his discipline and dedication, while his love for golf allows him to find serenity and challenge on the greens.
Shinpei joined Takeda in 2012 as a new graduate from a pharmaceutical university. He assumed Head Quality Services & Improvement for Hikari Site Quality in 2020, following seven years at the Osaka Plant and 1.5 years in the GQ Strategy and Business Operations department. He has since contributed to FDA remediation, GMP workplan, strengthening the organization, and improving organizational culture.
Through the use of digital technologies and AGILE, he is working on improving quality and culture at Hikari.
The assignment opportunity in Vienna
Shinpei was given the opportunity to work alongside fellow Global Quality teams throughout Takeda's primary sites in Austria. Trading his current life in Japan for a unique experience, it was an opportunity to learn the key processes and practices from sites in Vienna and to implement changes that would contribute to improvement in both Vienna and his home office in Hikari (Japan).


Though challenging for Shinpei to be away from his family, this opportunity allowed him to improve collaboration efforts and learn different cultures and values across departments and sites. For example, Shinpei noted the following differences in culture between Japan and Austria:
Work/Life alignment – less overtime, shorter office hours on Friday, the difference in labor laws/ government policy
Frequent company social events that are fantastic to engage and motivate people
A more diverse management team – diverse work style options like part-time work
Job rotation is one of the site's priorities to keep employees feeling refreshed
Welcome/Birthday celebrations are prepared by the individuals, not the host!
The knowledge that Shinpei gained from this experience was essential for improvements to be made in Hikari following challenges recently faced by the site.
Goals of the assignment
The focus of the assignment was to learn practices, products, and processes of Plasma, through a way of collaboration across the Quality departments which included:
Quality Assurance (Quality on the shop floor, Deviation investigation etc.)
Quality Systems (Document management, GMP Training etc.)
Quality Compliance (Inspection management, Self-inspection, APQR, Council etc.)
Quality Services Improvement
Quality Control Laboratories
This was an incredible opportunity for Shinpei to not only learn and develop his career but also to use the experience to identify improvement opportunities for Site Quality Operations at both Hikari and Vienna. Some of the goals Shinpei set out to achieve were successful support for inspections, delivering results through Quality Improvement projects, and building a strong network. This had a profound impact on his journey, especially from a culture/DE&I perspective.
Outcomes and impact on career
This assignment positively impacted sites in Vienna, in addition to Hikari and other sites in Japan. Shinpei could network with more than 60 colleagues, learning cultural and professional practices, while traveling to four different sites across Austria and Belgium.
During the three-month assignment, more than 20 essential work practices were shared with sites in Japan and idea exchanges led to over 10 new ideas and operational activities being shared with the site in Vienna. Shinpei was also able to support three priority projects including Reduced Testing, Controlled Supply, and PMDA Inspection.
For Shinpei, this assignment came with a variety of personal and professional benefits including:
Opportunities of networking with other colleagues in/around Vienna.
Learning multiple practices/perspectives of site activities, especially in Quality.
Experience working in a different culture i.e., new ways of working, efficient meetings, and well-being.
Identification of personal improvement opportunities to excel in his career at Takeda.
The assignment also had many development benefits for Global Manufacturing Supply and Global Quality (GMSGQ) at Takeda, including:
Sharing and implementing learnings from experiences of GMP sustainability in Hikari and across the Japan region.
Influence talent for career development and drive learning culture for organizational capability building.
Encourage a safe, supportive, and inclusive workplace enabled by DE&I, Health & Well-being, and Future Ways of Working to GMSGQ-Japan and receiving site members.
Creating opportunities for a successor to experience the deputy role he was in at the time.
Career growth & employee development in Global Quality
Shinpei had strong support from all stakeholders including his direct manager, team members, HR, and the receiving site for his international assignment. Thanks to this opportunity, he could learn and experience new things to help his career development, such as people skills, plasma-derived therapy products and processes, best practices, ways of working, and varied workplace cultures.
He felt a strong commitment to the assignment and his role, as Takeda is passionate about developing employees who have strong career aspirations, and more than ever, he feels proud to be part of Takeda.
In his new role, as Japan MAH Quality, he will enhance collaboration with internal and external stakeholders, particularly with Takeda's international partners, and adopt a strategic approach to Compliance and Quality Assurance to support Takeda's strategy - a stable supply of high-quality medicines to patients.
Job Alerts
Would you like to receive relevant opportunities in your inbox as soon as they're posted?
SIGN UP
Talent Network
Are you interested in company news, attending career events, and hearing more from Takeda?
Join
By submitting your information, you acknowledge that you have read our privacy policy and consent to receive email communication from Takeda Pharmaceuticals.